FlightScope Mevo Plus Review: Best Investment
In the last two years, I have reviewed and used a variety of consumer-level launch monitors, including the Rapsodo and the Garmin HTML10.
All of these launch monitors all hover around $500, but each one has their drawbacks.
I've been hoping to get my hands on a FlightScope Mevo Plus for a long time to see if it truly is the product that delivers a professional launch monitor experience at a more modest price point.
After many sessions with the Mevo Plus? It's everything I hoped it would be. It is comparable to more expensive devices, but it costs a fraction of a new Trackman X3 or Flightscope X3.
If you are thinking of investing in one, but not sure if it is worth the investment,
Yes, it really is.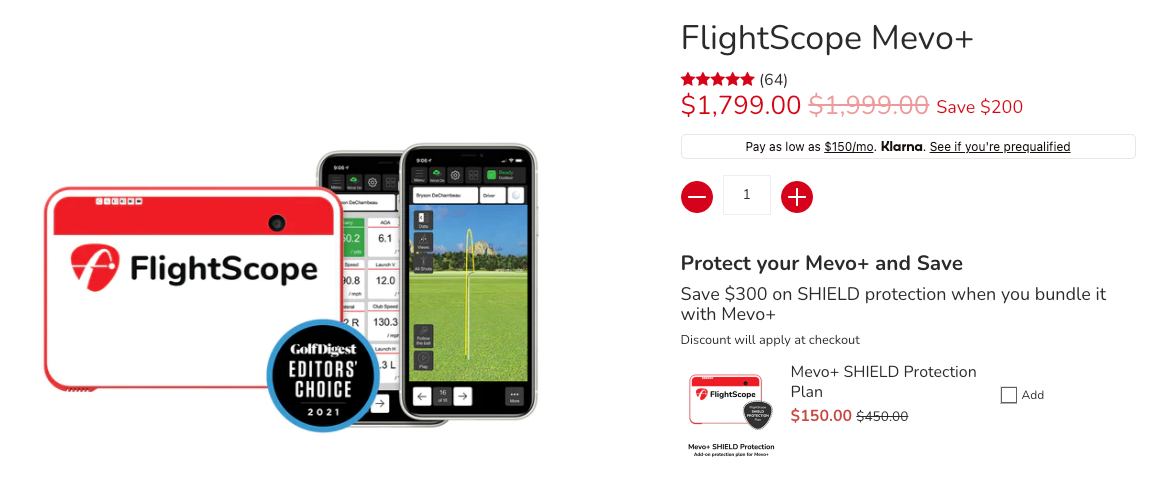 If you want to know more about why it is worth it, keep reading.
FIRST IMPRESSIONS FROM THE FLIGHTSCOPEMEVO+
The regular FlightScope Mevo portable launch monitor is the smallest available. It is barely larger than a deck or playing cards.
So I was expecting the FlightScope Mevo Plus to be much bigger.
The FlightScope Mevo next to the Mevo Plus launch monitor.
The first thing that I noticed when I took it out of its box and opened the sturdy canvas case was how slim it was.
Although the Mevo Plus is 2.5 times larger than the Mevo, the Mevo Plus's case is still very thin. The FlightScope Mevo Plus feels lighter than the Garmin R10, but the case is much thinner.
We are now off to a great start.
You'll find the following:
The Mevo+
A USB-mini charger cord and a charging block
A quick start guide
A code for your e6 simulator membership
A carabiner
For indoor accuracy, use metal stickers
What you get in the box of the FlightScope Mevo Plus.
Although it would be nice to have the Mevo Plus use the USB-C port, this has no effect on the device. It would just make the device feel more modern.
It is very well-built and one of the first things that you notice when you hold it in hand. It feels very sturdy and the metal stand that it comes with is extremely solid.
The stand is a very study metal frame.
The Mevo+ looks more than any other device I have tested at a lower price.
Just like it's little brother, the Mevo Plus is extremely easy to setup.
I downloaded the FS Golf App and logged in. The QR code at the back of my device allowed me to pair it with my iPad.
In less than two minutes, I was rocking.
The Target Align mode was a feature that I found extremely useful. It uses the camera on the front of the device and allows you to properly align the Mevo+ to your environment, to ensure that "straight" is actually where you think it is.
I was afraid the Mevo Plus was going to be more difficult to use than the budget launch monitors I'd tried, but setup was just as fast, if not faster than other devices.
It didn't matter if I was outdoors, indoors, or covered. It is a very portable setup.
It worked just as well with my iPad as it did on my iPhone.
However, it is important to ensure that all setup variables are correctly entered for the system to work properly.
All of this will be covered in the review.
The only problem I encountered was with setting up the e6 sim features. But that's something we'll discuss later.
Using THE FLIGHTSCOPE MEV+ INDOORS
To test it out, I brought the Mevo Plus indoors for my first experience.
After it was paired, I placed it 8 feet behind my hitting position and hit my first baseball.
It audibly gave me the number almost instantly
Although I have never experienced any issues with speed or delay in other units that I tested, this unit was significantly faster than the rest.
After hitting a few balls, there were some settings that needed to adjust.
In its out-of-the-box state, it would chirp "Ready" about every 10 seconds. It's not a big deal if you are alone or wearing headphones. But, what if you're in a crowded area? It would get you some annoyed looks.
Another concern is the sleep settings.
Its stock setting has the Mevo Plus going into a lower power sleep state after 30 seconds. The battery life is 1.5 hours with a full charge. This is why has power management settings.
It went to sleep after about 30 seconds. I had to get up from my iPad to click "wake" after almost every shot. Some shots were missed because it wasn't ready.
It was solved when I set it at 90 seconds.
I was pretty amazed at how well the FlightScope Mevo Plus tracked everything indoors.
It's not surprising that I was surprised by this, since I know many people who use it in their home simulator setups (and with good reason).
It gave me precise distances without fail, and a visual ball trajectory that seemed very accurate.
The 16 data points offered by the Mevo+ are more than the 8 available in the Mevo.
The Plus is a completely different product from the regular Mevo.
There are many reasons why this is so, but the most important one is lateral information.
Frustratingly, the Mevo doesn't provide any lateral data. This limits its utility.
The Mevo+ works, and I was able to see all the data it provided after watching the shot tracer from my first shot.
All I could think of was "Oh, this feels niiiice."
Everything worked indoors, both in my short-range and long-range settings.
The Mevo+ was able to handle the distance I had in my batting cage.
When it comes to tracking, there are three options:
Outdoors
Indoors
Short Indoors
It worked well indoors so I tried it out.
FlightScope says you need to keep ____ feet in front and ____ behind you in Short mode.
These are the dimensions of the various modes:
You'll need a minimum of 16 feet if you want to use the FlightScope Mevo Plus indoors.
You'll need to have enough space to make it work. However, I had no problems in my testing.
Using The FLIGHTSCOPE Mevo PLUS Outside
I've used the FlightScope Mevo Plus outside quite a few times now, and I've learned a lot in the process.
It was first used on a 2-story outdoor range with a metal roof.
After hitting about 20 balls, and checking the distances with my rangefinder to confirm them, I noticed that the yards seemed more off than I had expected. Sometimes, the distances were as much as 10 yards.
This brings us back the setup comment I made earlier.
This is my only complaint about the device. But it can be a major problem if you aren't careful.
This device is more professional than the standard Mevo and other lower-priced alternatives. There are many settings that you can adjust to affect the launch monitor's output.
You can adjust the pitch and roll of your device's physical settings.
Other adjustments include turning on weather or sea-level changes. You can also choose between standard and range balls.
These are the things that I have found to be most important. You may end up with results that don't match your expectations.
Also, I found that hitting from the second floor of a metal-roofed driving area gave me less accurate readings.
HOW DO YOU MAKE SURE THAT THE MEVO PLUS IS PROPERLY SET UP?
This is not a guide or review, so I won't go into detail. However, I want to highlight a few things that really made a difference in my device's accuracy.
Check that the Tilt is within 1° +/- 18 degrees. Based on the location of your device, the app will label it with either green or red. It will remain green at least 2 degrees +/-. It should be as close as 18 degrees as possible.
Roll should not be less than.5 off flat.
Change the weather in real-time. It's not adjusting or compensating for things that are outside your environment.
Be sure to pick the right club before hitting. This can also throw off the numbers.
Use caution if you are using fluorescent or metal lights in buildings.
After doing these things, and making sure that it was calibrated and properly set up before each session, the results were much more accurate than any budget launch monitors. However, the Approach was surprisingly similar for half the price.
THE FS GOLF APP
It is worth noting, however, that Mevo+ and Mevo+ use their own apps. The "FS Mevo Golf", while the former uses the app, the latter uses "FS Golf", which is more robust.
They both save your data to FlightScope accounts so that you can log in and view all your sessions. This is helpful if you're upgrading from a Mevo to a Mevo Plus.
The FS Golf app was very intuitive for me and a welcome upgrade to the Mevo app.
makes a huge difference by being able see things in 3D thanks to the addition of side data.
You can switch easily between the FS Golf app's view of your latest shot and seeing launch details for all of your shots during a session. A scatter chart also shows all of your shots.
Both the Rapsodo and Garmin R10 devices provide these features, but it feels more well-executed in the Mevo+.
It feels like a difference between a consumer and pro device.
These systems are all sub-$1,000 and feel almost like consumer products.
The launch monitor feels professional to me.
All the data you need is available and can be viewed in a way that makes it easy to visualize and compare with previous sessions to see progress.
Comparing Launch Monitors
RECORDING VIDEO USING MEVO+
One nice surprise was that I was able to use the built-in camera in the Mevo+ to record swings.
According to the literature, this camera was intended for target alignment purposes only. However, there had to have been an update in firmware.
The app gave me four options when I chose the camera: iPad Front, iPad Back, iPad Slo-Mo and Mevo+.
Although the camera on Mevo+ doesn't have a great quality and your proximity to it might affect how accurate it frames, it was very useful.
The swing was instantly transferred to my phone and I was able to review it within seconds. The camera options and functionality were excellent.
Using THE FLIGHTSCOPE Mevo+ AS A SIMULATOR
One of the great bonuses of the FlightScope Mevo+ is that it comes with a limited subscription to e6 – one of the leading golf simulator companies.
The only problem I had with the Mevo+ was when I set up e6.
First, you can only activate your e6 subscription on one device. If you wish to use your iPhone one day and your iPad the next, your e6 subscription can only be activated on one device.
Mevo+ connects with your device via a wifi signal rather than Bluetooth. I had issues downloading e6 courses from my iPad while staying connected to FlightScope.
It took me about 15 minutes to figure out how to switch between Apple devices, unbind, rebind, and download courses, etc.
Once you have completed the initial setup, everything should be fine.
The same problems occurred when I set up e6 via my Garmin.
These are the courses that you will receive:
Aviara
Stone Canyon
The Belfry
The Sanctuary
Wade Hampton
It's not bad. But I was quite surprised to find that Bandon Dunes was not included in the free course, as was the GarminR10.
One day I'll play Wade Hampton for real…
Bandon Dunes is the most exciting course, at less than 1/3 of the price of Garmin.
Additional packages, such as the Pebble Beach package, are quite expensive.
All that said, once you're able to use it?
It works great.
The Garmin R10 didn't work on my iPad, but I was able to use the Mevo+ simulator and the e6 simulator.
Wade Hampton was a great sim. It was as smooth as the FS Golf app and made for a very enjoyable experience.
You can pair it with a real projector. This setup is very affordable.
FS SKILLS APP
The Mevo Plus is also different from regular Mevo in that it has access to the FS Skill app. This separate app creates targets that you can hit and awards points based upon how close they are.
You can adjust the distance and target size depending on what you are working on.
Who doesn't like practicing at the range? This app is great! It's my favorite way to use Mevo Plus.
The Garmin and Rapsodo have built-in games that will add some entertainment and competition to your practice sessions.
The Skills features could have been integrated into the regular FS Golf app. It is cumbersome to have 3 different apps for range practice, simulation, and skills. I would love to have all of this under one roof in a perfect world.
FlightScope: Buy PlayBetter.com – Buy Now If you click on this link and make an order, we earn a commission at no additional cost.
FLIGHTSCOPE PRO JUST ANNOUNCED
Just as I was getting set to publish this FlightScope Mevo Plus review, they made a very big announcement about the Mevo+ Pro Package.
This announcement is going to make all pros and fitters look at golf swings differently.
The Pro package unlocks a whole new set of data metrics previously only available to their top-of the-line X3 model.
Here's the announcement:
The Mevo+ Pro Package adds 11 performance parameters to golfers' practice, instruction and club fitting sessions. These data points comprise the complete club D-plane dataset: club path and face to path, target, vertical swing and horizontal swing planes, low point and dynamic loft, as well additional data such as club speed profile and club acceleration profile and ball vertical descend angle em>
Mevo Plus Pro will receive a $1,000 upgrade.
FlightScope also announced the Pro update and that the "Fusion Technology", which was adapted from the X3, will be available to all Mevo+ users.
This basically combines 3d doppler technology with camera tech to provide accurate data.
I am still trying to understand how it works and the implications. I will update this review once I have more clarity.
FREQUENTLY ASKED Questions About THE FLIGHTSCOPE Mevo+
DO THE MEVO+ USE THE AME TECHNOLOGY WHICH TRACKMAN USES?
Nearly all personal launch monitors on the market today use doppler radar technology. It basically bounces microwaves off of the ball during flight to track its metrics.
A smaller doppler radar sensor is more expensive than a professional trackman.
WHAT IS THE BATTERY LIFE OF THE MEVO PLUS?
When the Mevo Plus is not plugged into, its battery life is approximately 90 minutes. This number was disappointing to me . Based on my real-world experience, an hour and a quarter was about the time I got.
It's possible to plug it in while it's being used. If you have an indoor simulator setup you don't need to worry about battery life.
However, the battery has a 3- to 4-hour charge time so if you are out on the range, don't expect to use it for more than an hour without a power adapter.
HOW DOES THE FLIGHTSCOPE PLUS WORK WITH THE Apple WATCH?
Yes, the Mevo Plus works with the Apple Watch. It's great.
This is one of the biggest features for me personally that sets either the Mevo or Mevo+ apart from competitors. It is extremely easy to access data on my Apple Watch. This solves the problem of having a tiny display on your phone or not wanting the audible distances that might bother other people.
FINAL THINKTS ON FLIGHTSCOPE MEVO PLUS
Simply put, the FlightScope Mevo Plus feels like the most budget-friendly professional launch monitor setup. Although it is not a Trackman, X3, GC Quad, or Trackman, I think I should loosely use the term "professional". However, the Pro Package update makes it look very close.
It looks and feels professional and has features that are useful for club members and professionals, which you won't get with the lower-end models.
Are you serious about your golf training? Or does it matter if you have the budget to buy a high-end simulator for your home?
I don't think there is a better alternative. The FlightScope Mevo Plus will deliver exactly what you're looking for, and you shouldn't hesitate to make the investment.
Are you unsure if it is the right one? You can check out our list of top golf launch monitors, you will most likely find the right one!